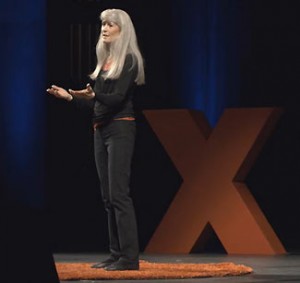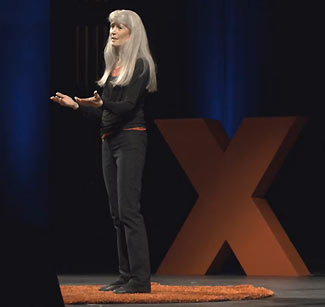 Here is Kathleen's 2nd TEDx talk, The Power of Listening, as a part of the larger Livestream video of the entire event plus other TED video content. Her introduction begins at 1:12:46 and she begins speaking at 1:13:20. We will post the solo talk video when it becomes available.  Scott Karman was a part of the production team. Below is Scott's post about why we do this in the first place, reposted with his permission. TEDx is an unpaid experience for the presenters.
Reflections on TEDxRainier
By Scott Karman
Along the way, in the eleven months of planning for TEDxRainier 2014, I experienced a particularly special moment during one of the speaker rehearsals. Kathleen Macfarren, a speaker with an elegant talk on deep listening, paused for a moment to ask us, "Why do you do this?" I chuckled as it was the very question that I had asked myself on my drive to the rehearsal. One by one, we all gave our answers. Bo Roth who was responsible for helping the speakers develop their talks said, "It's all about the people." Anna Boynton, a masterful speaker coach, said, "It's all about the people." Co-curators Phil Klein and Elizabeth Coppinger agreed. We all agreed. TEDxRainier is a unique labor of love where we get to meet, work with, and connect with amazing people doing amazing things. As a team, we have the pleasure of growing friendships through collaboration. There is a lot of laughter, some tears, and of course, some heated moments–all parts of creating something larger than ourselves.
Then, I think about the many teams that come together to make the event happen. The people that live behind the curtains of the stage that you will never see. "Why do we do this?" TEDxRainier is an opportunity for us to do our very best work without the constraints of timelines and budgets. It is a show where we get to decide what happens and how it is going to be accomplished. Kris Monro, of Milligan Events, was the glue that kept us all on track while providing her expertise on the attendee experience. The Tri-Digital team brought the live stream program to those who watched virtually. The camera work on the big screen or your screen at home was skillfully orchestrated by the Dapper crew. The presentations were the collective creations between the speakers and our Silver Fox designers. The entire auditorium experience was the result of the collaboration of all of these teams, including the amazing McCaw Hall staff. So why do we do it? This is what we love to do and we love putting on shows for our dear attendees.
And finally, during a particularly stressful event planning moment, I had posed the question to myself. "Why do I do this?" The answer came as a surprise to me.
It comes down to lifetime goals and dreams. You see, in college, my parents were not pleased with my decision to major in painting. One night, on the WSU campus, my mother asked me with concern, "What do you want to do with your life?" In my youthful and passionate naïveté, I responded that I either wanted to be an artist or the President of the United States. Well, as I grew up a bit, that evolved into wanting to be a teacher who leads and lets the creative process guide the way. Both ideas are applicable to anywhere my inspirations take me. And there I was, Saturday morning pacing my house at 3 AM, waiting for McCaw Hall to open so we could get the show started. I asked, "Why do I do this (to myself)?" A burst of adrenalin came over me and a huge smile stretched across my face. The answer is that I am doing exactly what I set out to do. This whole thing is a realization of lifetime goals and dreams.