Strength of Connection's Mission
To facilitate the quality of connection within ourselves and between people that creates respect, trust and a world where the needs of all people matter.
Strengthen Your Enjoyment of Life
Looking to develop a way to engage with conflict within your organization or neighborhood? Are you trying to get past the gridlock and make a decision? Do you want practice with effective, respectful, authentic communication? From retreat facilitation to bridging the gap between polarized groups, Kathleen offers an array of services tailored to specific communities and situations. Kathleen's services include:
Collaborative Community Building support

Neighborhood Disaster Preparation
Conflict Response and Prevention
Feedback: Reflection and Learning
Shared Power and Equity

Staff Training for Effective Communication in the Workplace
Leadership Support
Workshops on a wide variety of topics ranging from conflict transformation, authentic dialog, respectful communication, effective meetings, social change, parenting, mediation, and more.
Educational experiences
Keynote speeches
Mediation/Reconciliation
Retreat and/or meeting facilitation
Training the Trainer Programs: Trainer Candidate Community Program
E-learning programs: webinars, telesummits, etc.
Workshops on navigating Life Transitions with my colleague Mary Mackenzie.

About Kathleen Macferran
Certified Trainer and Assessor for the Center for Nonviolent Communication
Owner Strength of Connection in Seattle, WA
MMus in Conducting, Western Washington University; BA, Whitworth University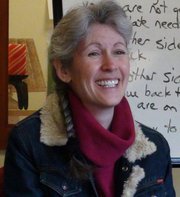 Kathleen Macferran holds a vision for a peaceful, just and sustainable world. She's a Certified Trainer and Assessor for the Center for Nonviolent Communication (CNVC) and offers communication and conflict resolution training internationally to organizations and individuals including businesses, schools, colleges, community groups, faith-based communities, hospitals, families, prison inmates, and correctional and law enforcement employees. She's one of 40 assessors worldwide who supports CNVC trainer candidates through the certification process for CNVC.
For over 35 years Kathleen has explored ways to restore harmony to communities. Her experience includes nearly two decades as a music conductor and leader of a nonprofit organization, and seven years as a public school teacher. Kathleen enjoys exploring with communities ways to engage with conflict in life-serving ways, including developing restorative justice systems and exploring Restorative Circles. Kathleen is one of the lead trainers for the Freedom Project, an affiliate organization of CNVC that strengthens community safety through supporting the transformation of prisoners into peacemakers. Kathleen offers trainings in concrete skills of nonviolence leading to reconciliation with ourselves, our loved ones and the community.
More information on these pages:

Kathleen Macferran
Strength of Connection
PO Box 10009
Bainbridge Is., WA 98110-0009
(206) 780-1021 (ph)
Kathleen@StrengthofConnection.com