Facilitated by Robert Krzisnik and Kathleen Macferran
Sponsored by the Compassionate Communication of Central Ohio
This gathering is a place to listen individually and collectively to what wants to emerge in our lives at this moment in time. Robert and Kathleen are personally exploring what is really possible beyond what we know, what living in a state of full authenticity and love can be, and how can we be in sync with the evolutionary flow of life. "Stepping Into a Greater Life" is an invitation to explore in community what the greater life is calling you to, how to step more fully into it, how to dance with fear and face what is holding you back. This is an invitation to reclaim the life you dream to live as part of your place in the dynamic Whole. The daily sessions will weave together ways of listening, speaking, moving and stillness that welcome the whole of our human experience. The schedule will include structured large and small group time as well as spaciousness for personal integration, self-care and relationship building. We hope participants will leave the retreat to re-enter their lives with more inner clarity about what they want to create in their lives, and have more courage to contribute to the Whole through the fullness of their being.
For more Information and to REGISTER, visit www.speakingpeace.org/april-23-29-2017-retreat/
We will be exploring:
Living with courage, dancing with fear

What is possible beyond the known, beyond the conditioning, beyond the learned possibilities

Connecting to life purpose and manifesting it

Living in the fullness of Life

Ubuntu: Me as a part of the Whole, holistic interconnectedness

Entering life in full authenticity, nakedness, power; fully shining
Early Bird Tuition: $899 through February 23, 2017
Standard Tuition: $998 after February 23, 2017
Multiple Person discount -10% off when registering and paying together. Room & Board Separate charges. See website for more information.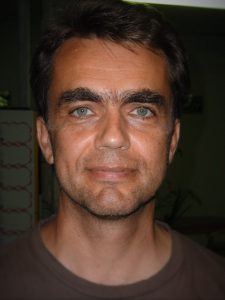 Robert Krzisnik, MSc. Psych (Slovenia) has been working for 28 years with individuals and groups as psychotherapist, trainer, team coach, complex meeting facilitator and conflict mediator in a wide spectrum of environments: from corporate to educational to personal and spiritual retreats. While all his work is infused with the spirit and the approach of Nonviolent Communication, he is also a dedicated practitioner of Art of Hosting practices, and an explorer of intercultural communication. In Nonviolent Communication he is most passionate about its spiritual aspects of deep self-connection and connection to the Whole, as well as its use in conflict mediation (between individuals, within groups and between groups). He has shared NVC on IITs, retreats, and workshops throughout Europe and in the US, Mideast and Asia.
Since his early teenage years, Robert has been eagerly exploring the spiritual realms of Self and the Whole, as well as existential questions of life, through numerous inward journeys and travels around this wonderful world. He is also an eager practitioner of Contact Improvisation, a form of dance/movement which he sees as an embodied exploration of the NVC principles, and of the flow of Life in general. He lives in Slovenia, a small country in Europe, which used to be a part of a country that does not exist anymore, but still resides in his heart—Yugoslavia. His website: www.humus.si/en Robert has given two TEDx talks connected with Nonviolent Communication, one in 2012 on Global Citizenship, and the other in 2013 on Personal Growth.
Kathleen Macferran
Kathleen holds a vision for a peaceful, just and sustainable world. She has worked as a Certified Trainer for the Center for Nonviolent Communication (CNVC) since 2003, is an assessor for CNVC certification candidates, and served on the Integration Council for the restructuring of this international organization. Community system building and conflict transformation are passions of hers.
Kathleen has worked with organizations and individuals including businesses, schools, colleges, community groups, faith-based communities, hospitals, families, prison inmates, and correctional and law enforcement employees. She serves as a lead trainer for the Freedom Project of Seattle, an organization that strengthens community safety by supporting the transformation of prisoners into peacemakers.
Kathleen offers trainings, facilitation, system building and mediation using practical skills that lead to reconciliation with ourselves, our loved ones and our communities. For over 30 years Kathleen has explored ways to restore harmony to communities including two decades as a music conductor and leader of a nonprofit organization, and seven years as a public school teacher. Her website is www.StrengthofConnection.com where her two TEDx talks can be found.
For more Information and to REGISTER, visit www.speakingpeace.org/april-23-29-2017-retreat/