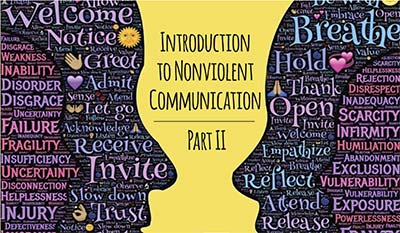 This workshop builds on the Introduction to Nonviolent Communication as a Spiritual Practice, Part I held at Chobo-Ji in October, 2018. In that training, we covered core aspects of NVC: empathy, feelings, needs, and self-awareness, all for the purpose of building compassionate connection with others. In January's Part II, we'll develop these understandings further and introduce more essential skills: deep listening and speaking authentically, as well as making observations and requests. We'll also explore ways to bring NVC as a spiritual practice into our sangha life as well as into our individual relationships. Finally, we'll continue to deepen our understanding of interdependence, compassion, and shared power in order to foster a restorative community here at Chobo-Ji. There will be plenty of time for active role playing to build skill with what we've learned.
Facilitated by Kathleen Macferran, Certified Trainer Certified Trainer with the Center for Nonviolent Communication
The training is free to encourage sangha participation, though donations are always gratefully received.
When:
9:30 AM-4:30 PM. There will be a one-hour lunch break. Bring a sack lunch or eat out. Snacks, coffee and tea will be provided.
Location:
Chobo-Ji Zen Practice Center 1733 S. Horton St (downstairs rear entrance) Seattle, WA 98144
For more info about Chobo-Ji Zen Practice Center, www.choboji.org