Discover skills that will help you improve the quality of your relationships, deepen your inner peace, and increase your contribution in the world.
Join us to be part of a compassionate community learning together how to speak from the heart; practice deep, nonjudgmental listening; and build self empowerment from the inside out.
This event is a 9-day residential training designed as an "immersion experience" in Nonviolent Communication (NVC) led by a team of experienced CNVC certified trainers.
The purpose is to offer you the opportunity to live the process of NVC in community over an extended period of time, in order to develop the mindsets and practical tools to help you in three areas:
1. Personal and Professional Relationships
Increase connection and closeness with the people you love.
Speak in a way that inspires compassion and understanding.
Initiate difficult conversations with more ease and confidence.
Remain centered and peaceful when receiving difficult messages.
Express and receive anger fully, safely and respectfully… yet powerfully.
Resolve long-standing conflicts and heal painful relationships.
Parent children from the heart and move beyond power struggles into cooperation.
Translate criticism, judgments and blame into life-serving messages.
2.  Inner Transformation
Shift patterns of thinking that lead to depression, guilt and shame and perpetuate pain.
Transform anger into self-understanding, thereby increasing inner peace.
Enliven yourself by expressing and receiving gratitude.
Learn to embody unconditional love.
3.  Contribution and Social Change
Teach others a way to increase inner peace, liberate themselves and strengthen relationships.
Share NVC in ways that transmit and model it's power to transform and inspire others.
Create educational systems where students love learning and teachers love teaching.
Learn to engage in effective, lasting nonviolent social change in the tradition of Gandhi and Dr. Martin Luther King, Jr.
We intend to prioritize these three areas within the IIT curriculum and there is also room for co-creation. There will be opportunities for you to make requests for specific topics that you imagine will support you in applying NVC in these areas of your life.
Seminar Language: English
TRAINERS
---
Trainer: Kirsten Kirstensen (Denmark)
Kirsten is a family therapist, mediator and Certified Trainer with the Center for Nonviolent Communication, through which she has led Nonviolent Communication trainings in Europe, Asia and the United States.
Her passion is to contribute to the personal development and healing that enables people to move closer to conflicts and to grow relational competencies. People who experience Kirsten's training and facilitation often express enjoyment of how she models what she teaches with a drizzle of humor.
For 22 years, Kirsten has devoted her working life to supporting others in personal development and between 1998 and 2006, she spent more than 100 days learning with Dr. Marshall Rosenberg, the creator of Nonviolent Communication (NVC).
In 2014, Kirsten was on the trainer team for Healing and Reconciliation with NVC in Nepal, which resulted in a documentary "Raamro Aakha Ma (In the Eyes of the Good)." https://www.youtube.com/watch?v=RqA2OydkXgg
She leads year-long NVC programs in Denmark and Germany and serves as a consultant and supervisor for institutions and organizations. She also publishes books on NVC in Danish and films about "Culture of Peace in Schools with NVC".
Her website is here.
---
Trainer: Alan Seid (USA)
Alan's background in socio-ecological sustainability is what first got him deeply interested in NVC. If humans are to resolve global issues such as climate change, we need to develop great skills in cooperation and collaboration.
Alan took his first workshop with Dr. Marshall Rosenberg in 1995. He's been a Certified Trainer since 2003, and has worked with thousands of individuals, couples, families, institutions, and organizations in the academic, nonprofit, government, and business sectors.
Alan works as a breakthrough coach with people who are committed to their own growth and development as well as to making a positive difference in the world. Find his website here
Alan lives in intentional community in the foothills of the North Cascades in Washington State, where they also implement Permaculture Design and other life-serving tools and skills.
---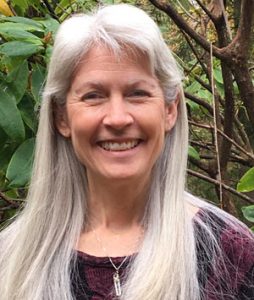 Trainer: Kathleen Macferran (USA)
Kathleen Macferran, as a CNVC Certified Trainer/Assessor and owner of Strength of Connection, supports others in living lives that matter. Community system building and conflict transformation are passions of hers.
She offers Nonviolent Communication (NVC) training to schools, community groups, churches, hospitals, families, correctional officers and prison inmates. Kathleen supports the transformation of prisoners into peacemakers as a lead trainer for the Freedom Project. Kathleen is the author of and conductor for Giraffe Tales, a children's CD setting stories to music.
Trainer: Mitch Miyagawa (Canada)
Mitch lives with his partner Angela Walkley (also a Certified Trainer), his Certified Children Tomio and Sam, and other creatures on Gabriola Island, off the west coast of Canada.
Mitch's specialty is leading creative and unique experiences for groups of people that spark change. The change can be new and deeper conversations, new ways of being with each other, a new sense of shared purpose. He sees "experience production" as his art, and his style is light, subtle, and spacious.Find his website here
Mitch's work includes NVC trainings and workshops in many settings, cultural and artistic event production, filmmaking, and writing. His film about his family's experience with government apologies, A Sorry State, won the Writers Guild of Canada award for documentary in 2013.
Mitch and Angela together lead KILN, a 10-month program for Trainer Candidates, along with assessor Penny Wassman.
Mitch is currently the Program Director for the Gabriola Arts Council. He believes strongly in the role of the arts in cultural change, and in local community as our strongest area of influence. He wants to support others to creatively find "liberation spaces" in their own communities.
---
Trainer: Samuel Odhiambo (Kenya)
Sam is a husband and father of two children, a son and daughter. He has been a youth coordinator and mentor since 2008. He lives in Mukuru, an informal settlement in Nairobi, Kenya. He has been contributing to creating space for youth engagement on conflict resolution and exploring alternative strategies to power over in youth leadership within community based organizations within the informal settlement. He is passionate about sustainable youth development and peaceful coexistence within the African continent. He has been incorporating NVC in peace building programs in Mukuru even before he embarked on his certification journey in 2013 enjoying to give his presence voluntarily drawing from the song GIVEN TO by Ruth Bebermeyer.
ORGANIZER
---
Organizer: Karen Starz (USA)
Karen is a passionate and dedicated NVC practitioner and event organizer. She is on the certification path with the KILN I group from Gabriola, B.C. Karen resides in Houston, Texas and is an integral part of Houston NVC as a practice group leader, President of HNVC, a nonprofit dedicated to spreading Marshall Rosenberg's work, and as a local facilitator. For questions concerning venue, tuition assistance and logistics, please call 281-910-2921 or email her at starz.organizer@gmail.com.
For more information and to register: Click here
---
Venue: Island Retreats I and II
Wake up to the sounds of the waves or take a relaxing walk down our board walks that lead to the beach, marking your own personal footprints on the sand. Each condo has its own kitchen and amenities to supplement the catering that will supply breakfast, lunch and dinner daily. In addition to be located on the beach, there is a pool so bring a swimsuit!
Travel
by Air: The nearest airport is Corpus Christi International Airport corpuschristiairport.com with ground transportation to Port Aransas. There is also the option to fly into Houston Hobby or Houston International Airport.
ground transportation
Once you are registered, you will receive a welcome letter with a rideshare document that can be filled out to meet ease in connecting and sharing rides.
Participants are asked to wait until their registration in the IIT has been confirmed before booking travel reservations.